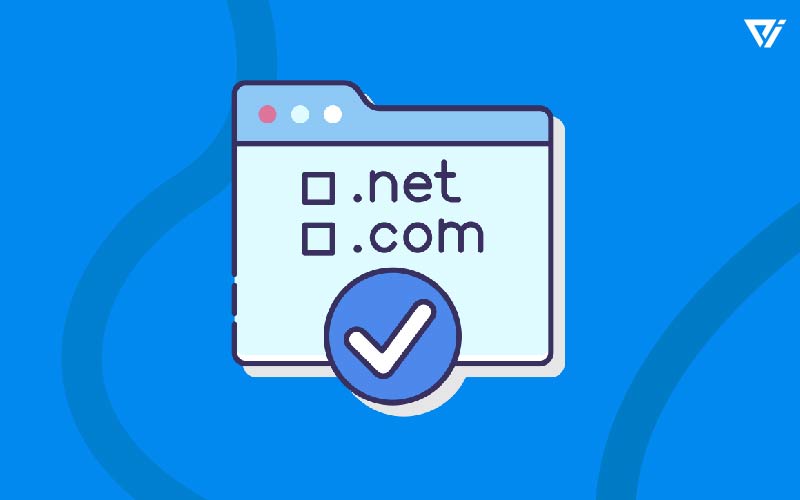 We'll go through the Differences between .com and .net domains and which is best for your website and which domain is more appropriate in different situations in this post.
Our consumers frequently inquire about the differences between the .com and .net domain name extensions.
Choosing a domain name is critical for your company's objectives since it affects your branding and search rankings.
What are the differences between the .com and .net domain name extensions?
A domain name is the internet address for your website. This is the address that your visitors will put into their browser to go to your site. wpjugaads.com, for example.
Various extensions, such as com, net, org, and others, are available for domain names. Such as:
example.com
example.net
example.org
To create a website, you may select a domain name from any of these extensions. These extensions, on the other hand, were designed to discriminate between different sorts of websites.
You must select a domain name extension that is appropriate for your organization while also assisting you in establishing a recognized brand and authority in your field.
So, let's evaluate the differences between the.com and.net domain extensions to find which is better for your company.
What's the Difference Between .com and .net Domain Names?
The most common domain name extensions are .com and .net. Many domain name generation programs will suggest .net as an alternative if your selected dot com domain name extension is not available.
In most circumstances, though, it is not a viable option for your company.
Commercial domain names are represented by the COM in the .com domain name. This covers all company websites, websites that wish to generate money online, personal websites, blogs, portfolios, and nearly everything else.
The NET in the.net domain name extension stands for "network." It is suggested and appropriate for suppliers of internet, email, and networking services.
Related Posts:
When Is a .com Domain Name Appropriate?
The internet has become associated with the .com domain extension. .com domains account for over 46% of all registered domain names.
This is why a.com domain name is far simpler to remember than any other domain extension. Because .com domain names are so popular, they're also easy to market, advertise, and use to help you expand your business.
If you want to create a commercial website, you should always go with a .com domain name extension. It provides a recognized address for your website and helps your company appear more professional and established.
The issue now is that.com domain names are so popular that it appears as all of the excellent ones have already been taken. There are, however, a variety of creative approaches to get the ideal .com domain name.
Here are some suggestions for selecting the best .com domain name:
Your domain name should represent your business and what you do. For example, wpjugaads.com (Jugaads basically means Tips in Urdu) is better than wptips.com
If your ideal domain name is already used, you may make it distinctive by adding short words before or after it. For example, wpjugaads.com
Make sure that your domain name is easy to pronounce. In your domain name, avoid using hyphens or digits.
Use domain name generators that are available online. These free tools can assist you in coming up with smart domain name suggestions that are both original and available.
When Is It Appropriate to Use the .net Domain Extension?
If you want to provide internet, networking, database hosting, email hosting, or other comparable services, you should choose a .net domain name.
If your brand allows it, you can still utilize a .net domain name. To pull this off, you'll need some major marketing skills.
For example, slideshare.net is a popular online design community whose website effectively employs the .net domain suffix. It's ideal for them since they want to be a network of artists, designers, and businesses seeking new talent.
The .net domain extension is used by around 5% of all domain names registered. Domain name registrars have begun to promote .net and other domain name extensions as alternatives to .com, giving the appearance that it is more widely used than it is.
It was intended to be a domain extension for internet and networking service providers at first. Many legitimate and well-known online businesses still operate under the .com domain name. Visiting comcast.net, for example, will send you to their new .com page.
Now, you would think that 5% is a lot of domain names. Is there anyone else who uses .net domain names?
Many organizations choose the .net domain extension for their brand to ensure that no one else may use their name.
Because they couldn't acquire their preferred .com domain name, several businesses began to use it. The majority of these businesses will switch to a .com domain extension in the near future, but they will preserve their .net domain name for technical and legal reasons.
Which Domain is better for SEO, .com OR .net:
Many of our customers want to know which domain extension can help them rank better. If you're deciding between Net and Com, neither will have an impact on your SEO.
Both domain extensions will be treated equally by search engines. To rank better, all you have to do is focus on SEO best practices and develop relevant focused content.
Your domain name, not the extension, will be the most significant factor. Wpjugaads.com, for example, will rank higher than wptips.net because it has a term that people are more likely to search for.
Related Posts: