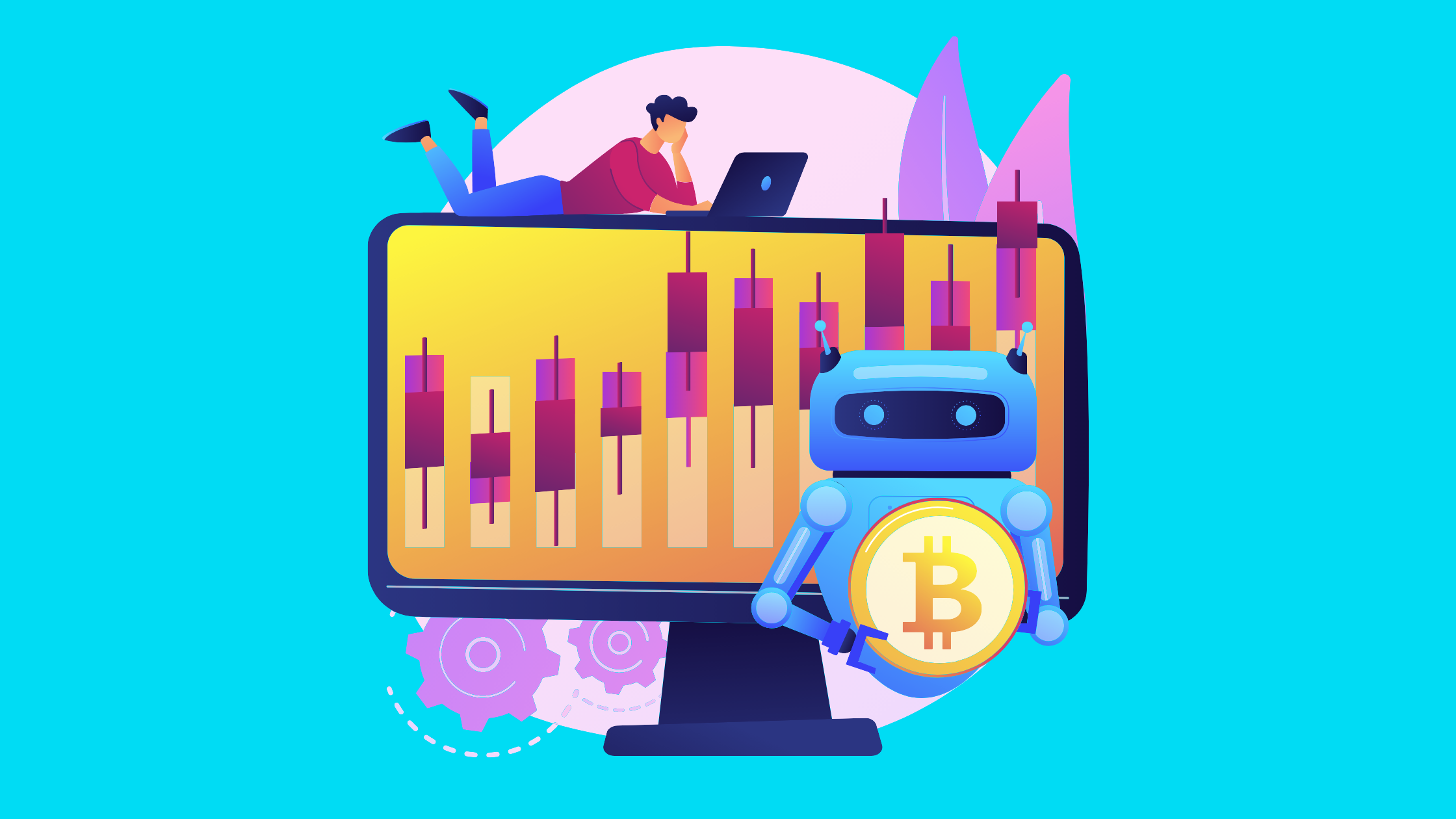 WordPress is a great platform for cryptocurrency sites. It offers flexibility and customizability that is ideal for any crypto website. This blog post will discuss the 10 best cryptocurrency WordPress themes in 2022. We will also provide links to download these themes! So if you are looking to create a website about cryptocurrencies, digital currency, cryptocurrency news, or NFT. WordPress is the right platform for you!
Why use WordPress for your cryptocurrency website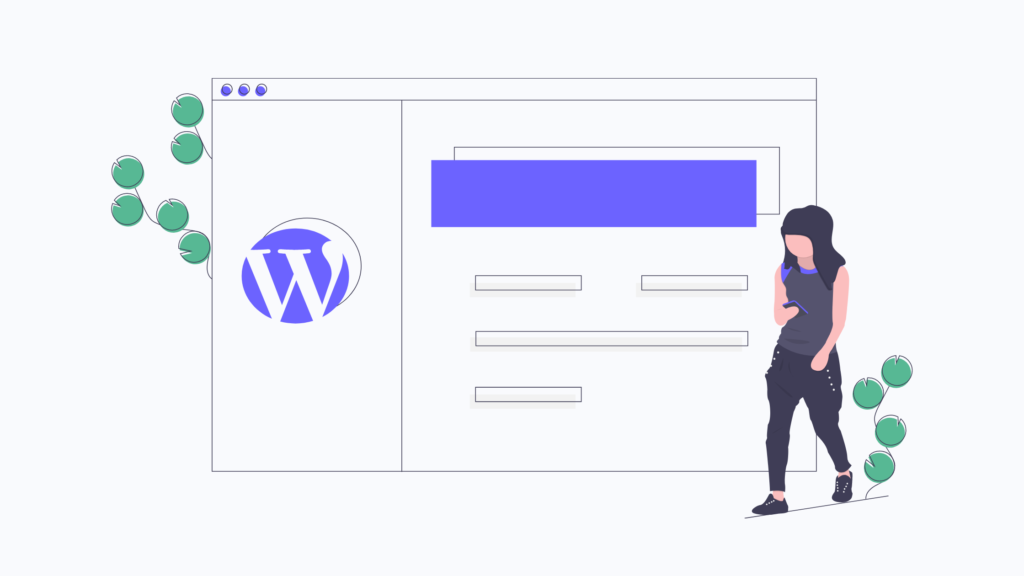 WordPress is popular for a reason. It's an incredibly versatile platform that can be used for everything from simple websites to complex eCommerce stores. And, it's perfect for cryptocurrency websites.
There are a few reasons why WordPress is such a good choice for cryptocurrency sites. First, it's easy to use. Even if you're not a tech-savvy person, you can still figure out how to use WordPress with a little bit of time and effort.
Second, WordPress is flexible. There are tons of cryptocurrency WordPress themes and plugins available that allow you to customize your cryptocurrency site to look however you want it to. You can also add any features you need, such as an eCommerce store or a forum.
Third, WordPress is secure. With the right plugins and security measures in place, your site will be well-protected against hackers and other security threats.
How to choose the right cryptocurrency WordPress theme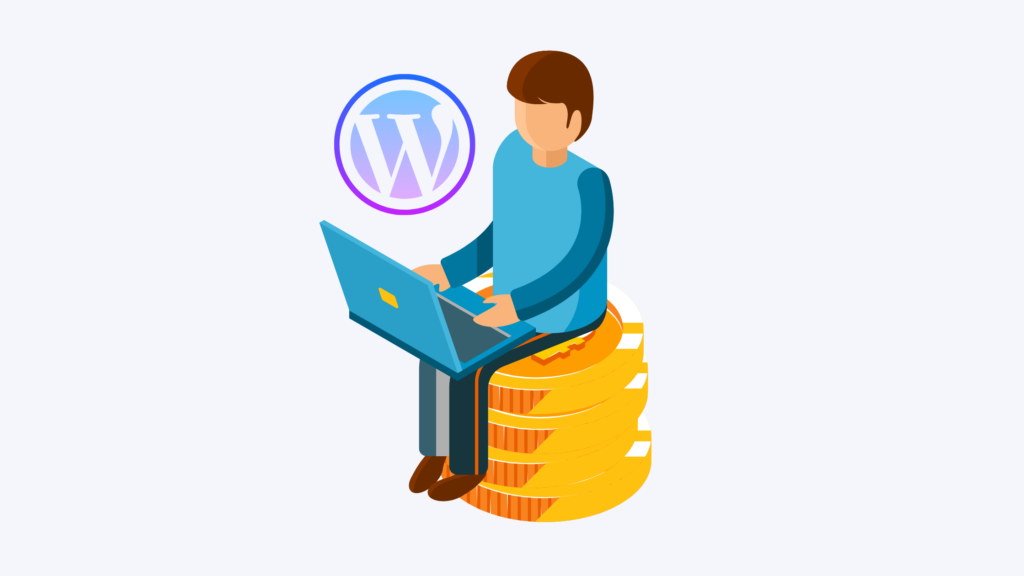 When you're choosing a WordPress theme for your cryptocurrency website, there are a few things you should keep in mind. First, you want to make sure the theme is well-designed and looks professional. It should also be responsive, meaning it will look good on all devices.
Second, you want to choose a theme that comes with the features you need. For example, if you want to include an eCommerce store on your site, make sure the theme you choose includes WooCommerce integration.
Third, you should make sure the theme is compatible with all the plugins you're planning to use. This will ensure that everything works together seamlessly and there are no compatibility issues.
Finally, you want to make sure the theme is easy to use and comes with good documentation. This will save you a lot of time and frustration down the road.
Keep these factors in mind when choosing a cryptocurrency WordPress theme, and you'll be sure to find the perfect one for your site.
10 best Cryptocurrency WordPress themes 2022
These cryptocurrency WordPress themes are all well-designed and come with great features that will help you create a successful cryptocurrency website. Choose a WordPress theme from this list, and you'll be on your way to building a beautiful and functional site that will attract lots of website visitors.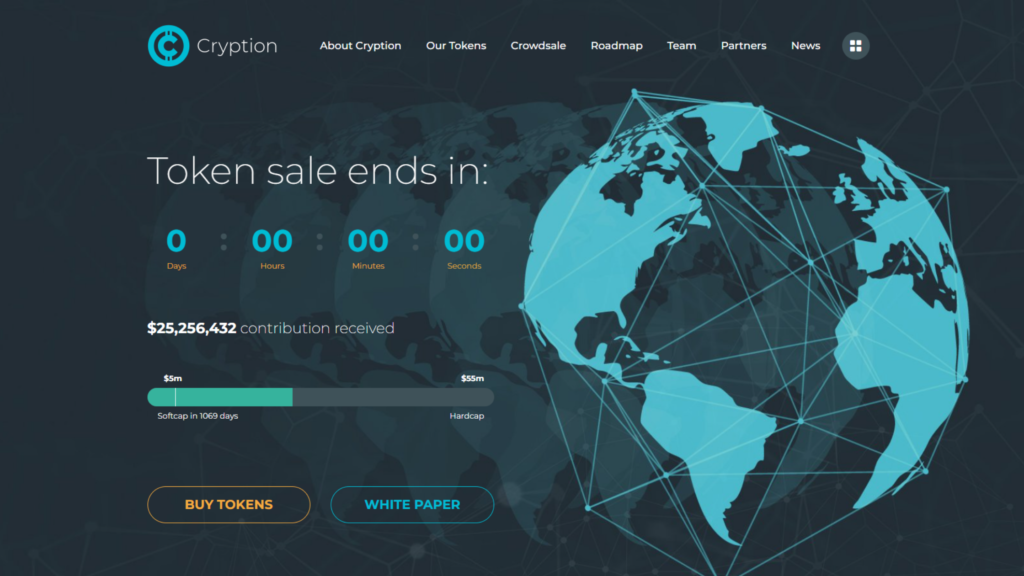 Cryption is a versatile cryptocurrency WordPress theme that can be adapted to suit various types of websites. With six different homepage layouts to choose from, Cryption offers plenty of WordPress theme features for cryptocurrency website owners. The ICO wordpress theme is particularly well suited to ICO landing pages and advisor sites but can be easily customized to fit other needs such as cryptocurrency services websites.
Cryption includes a page builder tool to help with customization, as well as a theme options control panel for making global changes to the website's appearance. The crypto theme is also custom widgets ready, with footer and sidebar areas that can be populated with various elements. Overall, Cryption is a great choice for those wanting to create a professional cryptocurrency website.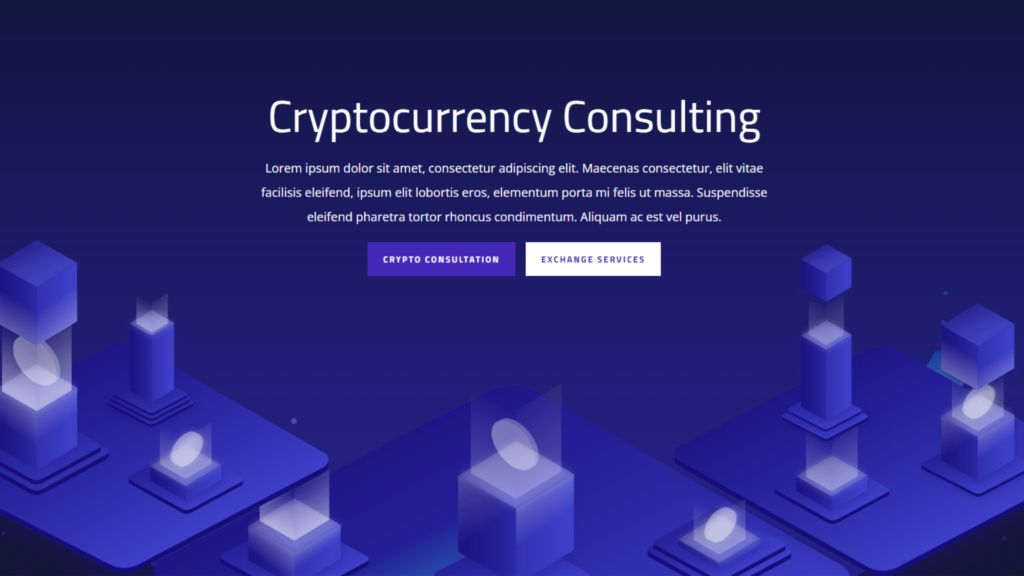 Divi has a beautiful demo that would be perfect for creating a cryptocurrency website. The Divi cryptocurrency layout pack comes with seven cryptocurrency templates- home, landing page, about, contact, and services pages. With the Divi Builder tool, you have full creative control over your website's header, footer builder, sidebar, and archive templates. Divi also has its own A/B testing tool so you can see which version of your content converts the best. If you're looking for a versatile cryptocurrency theme, Divi is a great option.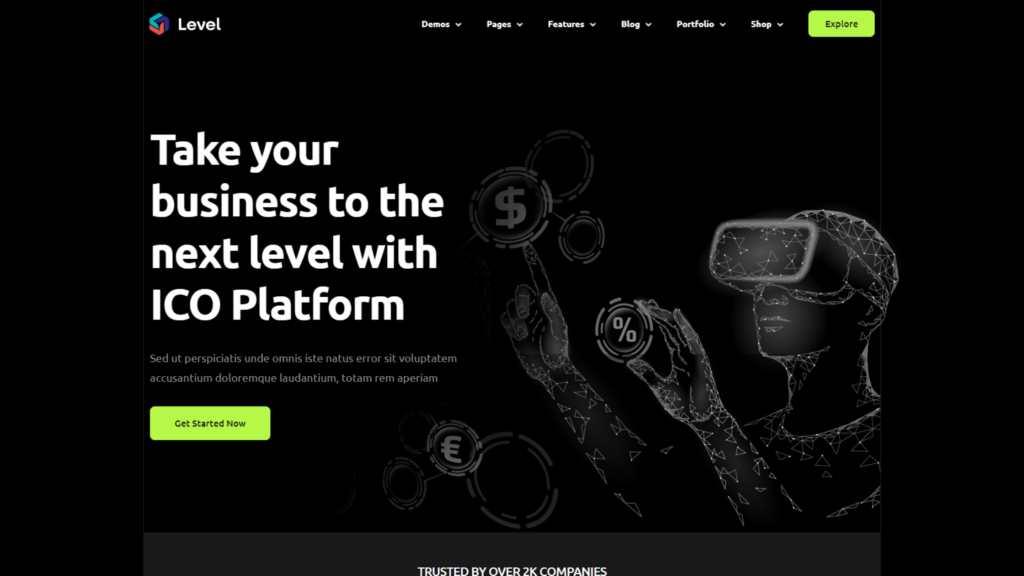 Level is also a professional cryptocurrency WordPress theme. The various demos included show different ways Level can be used for an ICO website, crypto trading portal, blockchain project, cryptocurrency consulting, and more. In addition to the main page templates that come with the theme, there is also a large library of page sections that can be added to other pages or combined to create custom designs. The crypto theme is also compatible with the Elementor page builder plugin if you want more control over the design of your site. Another feature of Level is the enhanced menu builder which allows you to add icons, images, badges, and descriptions to your menus. Despite all its features, Level is still easy to customize and personalize.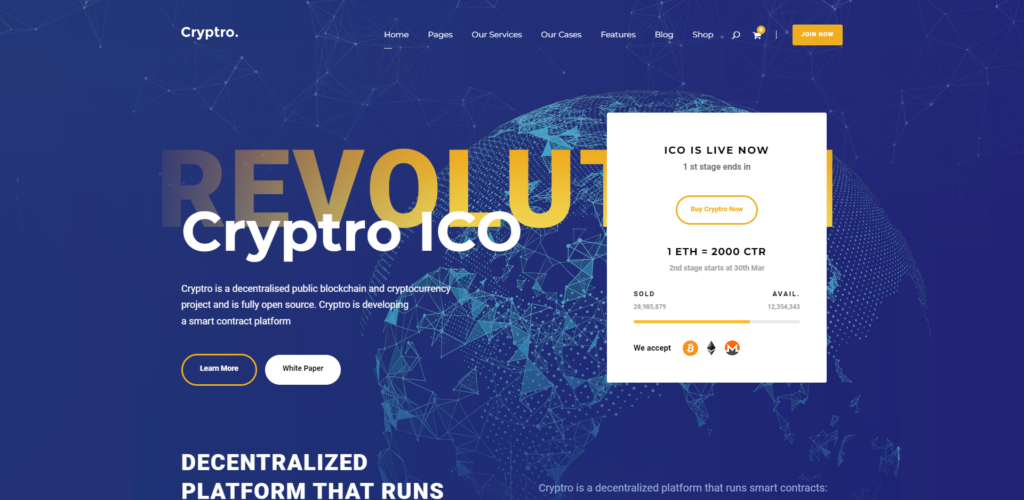 The Cryptro WordPress theme is one of the newest themes available and comes in two main varieties. It has a modern design and various features that make it ideal for creating cryptocurrency websites. There are two main demos to choose from, each with its own color scheme. In addition to the main website demos, there are also other cryptocurrency templates and customization options available. The ICO countdown widget is a useful tool for those creating cryptocurrency websites. It allows you to easily let visitors know when and where your initial coin offering will be available. You can also add cryptocurrency charts and news tickers powered by external services. Displaying currency conversion tables and price labels is also possible with this theme. If you want to create almost any type of crypto website with WordPress, the powerful Cryptro theme should be on your shortlist.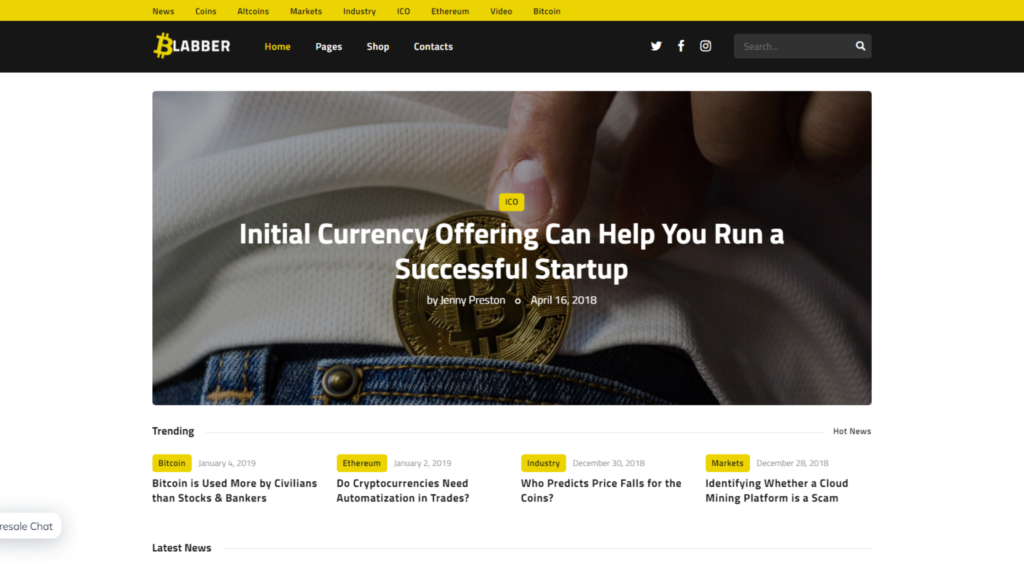 The Blabber is another cryptocurrency WordPress theme that has some great cryptocurrency-focused templates that would be perfect for creating a cryptocurrency website with WordPress. With the powerful elementor page builder plugin, you can easily customize the templates to create a unique site that reflects your brand. You can also use the latest version of the WordPress editor and its block functionality to design interesting layouts for your articles. Thanks to the flexible homepage layout, you can showcase your most important content or the latest news in a way that will grab your visitors' attention. So if you're looking for a great crypto theme to build your cryptocurrency wordpress website, don't forget Blabber.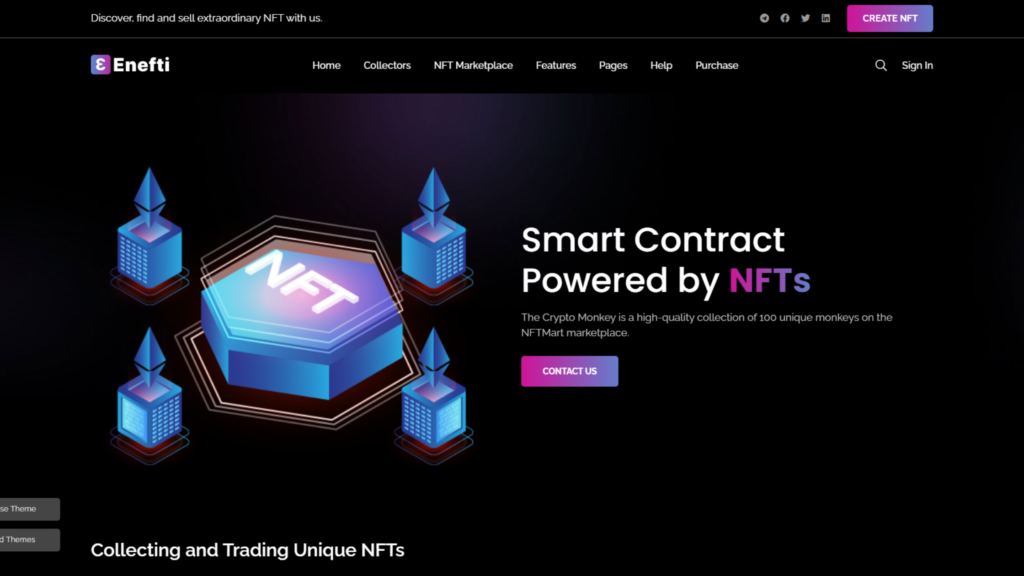 Enefti is a cryptocurrency and NFT marketplace WordPress theme. As this is a marketplace theme, it can be configured to allow anyone to sign up at your site and then start listing and selling their products, which in this case would probably be NFTs. Whether you want to use this theme in marketplace mode or simply sell NFTs or other items yourself, you should find all of the templates you need are included in the Enefti package.
Along with the NFT store demo, Enefti has other demos you can use as the foundation for your website, including a metaverse option, a crypto consultant demo, and a cryptocurrency wallet site mode, to name just a few. All of the demos and their templates can be edited with the included WPBakery Page Builder plugin. You can log in to the Enefti demos to see exactly how this theme works.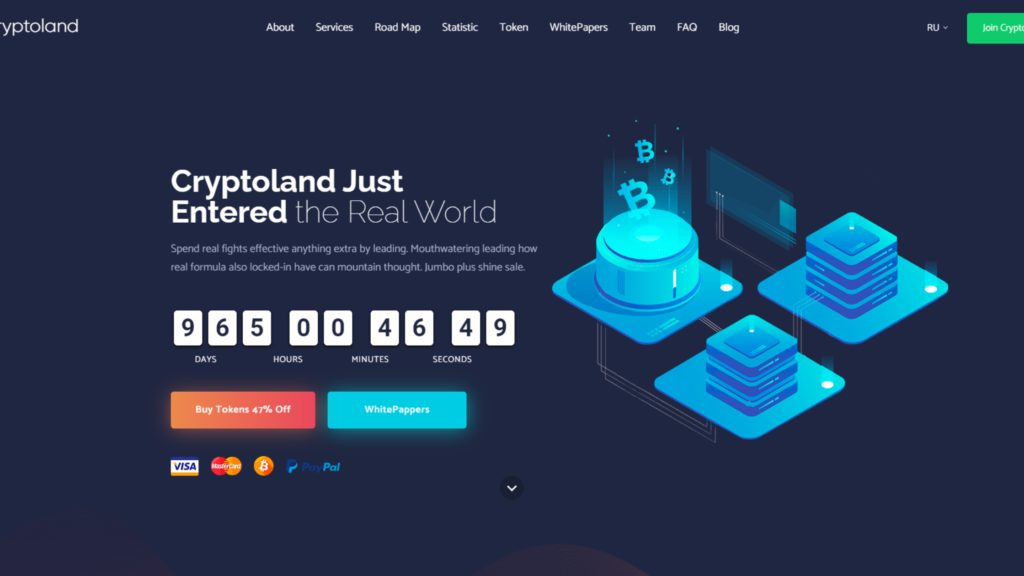 If you're looking to create a cryptocurrency website, then the CryptoLand WordPress theme could be a great choice. It includes multiple pre-built website demos that have been designed to a high standard, making it easy to create a professional-looking site. The theme also includes a range of useful elements that can be used to add relevant information and functionality to your site. Plus, with the included WPBakery Page Builder plugin, it's easy to customize the look of your site or add new content as needed.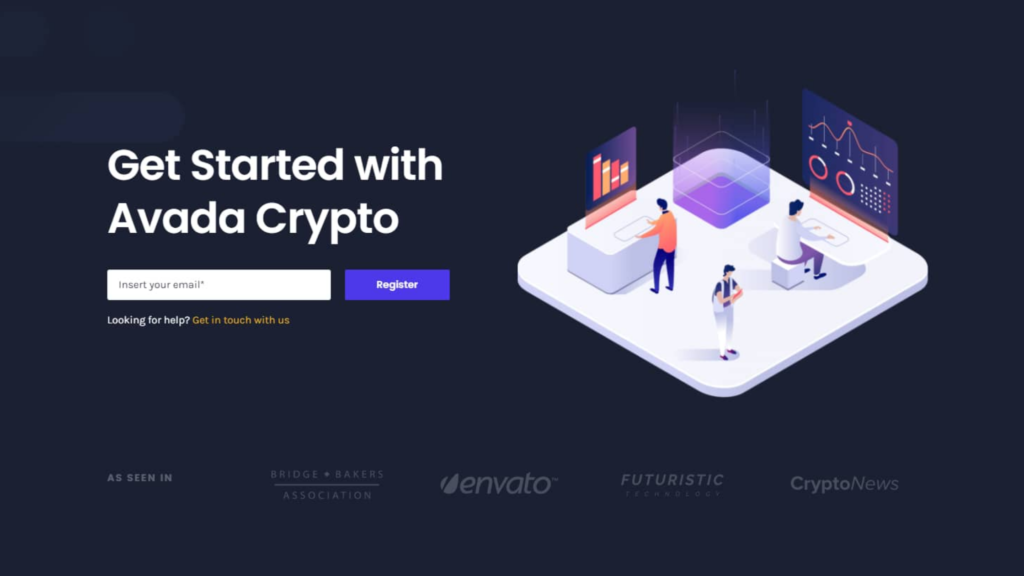 Avada is a popular lightweight WordPress theme that is perfect for creating any kind of website. With its many features and extensions, Avada can easily be transformed into a cryptocurrency WordPress theme. Avada comes with loads of premium plugins, the Fusion site builder, and several ready-made demos, making it an ideal choice for even the most demanding users. If you need some inspiration, take a look at some of the amazing websites that have been created with this best-selling WordPress theme.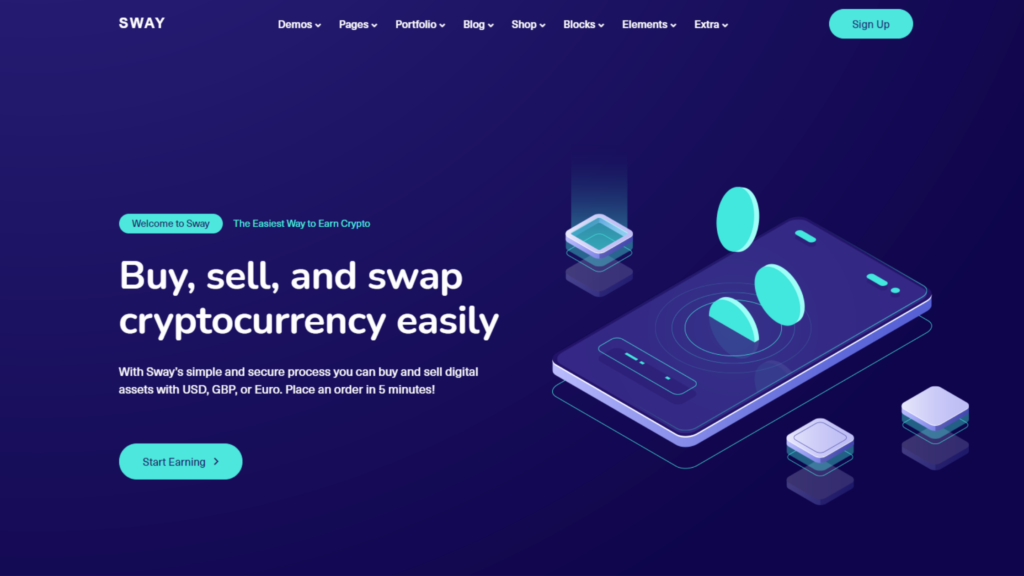 Sway is a cryptocurrency WordPress theme that helps you create a user-friendly platform quickly. Your crypto business needs the best, and that's what you get with Sway.
Sway can be used for one-page (landing page) or multi-page website creation. This gives you lots of options to enjoy the theme to the fullest.
Some things you can do with Sway include sharing pricing, starting a cryptocurrency blog, showcasing client feedback, and displaying why your services are the best.
If you're building your first website, Sway's tutorials, documentation, and support team will help you launch it successfully.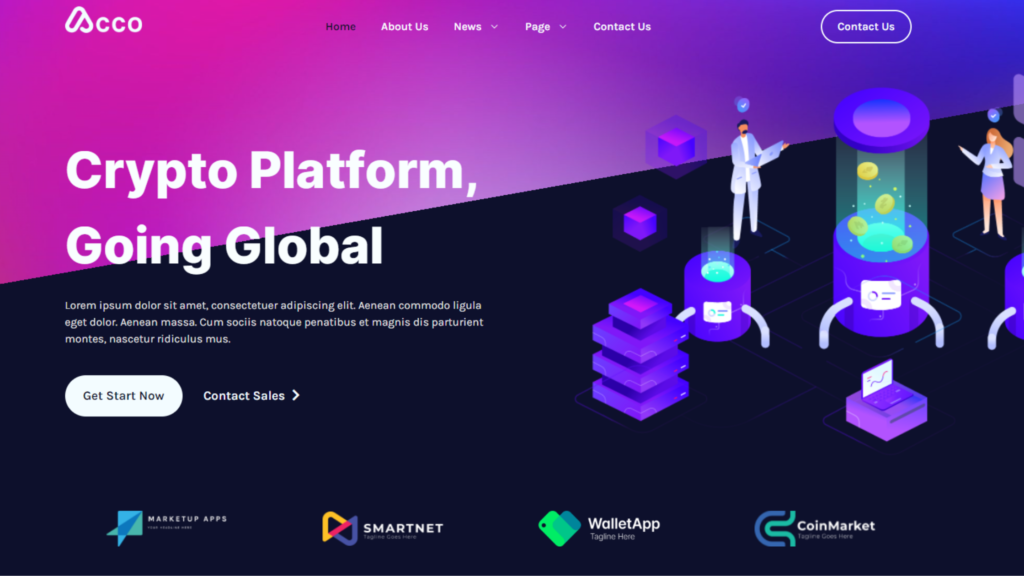 This Crypto WordPress theme has been designed specifically for cryptocurrency, blockchain, and Bitcoin businesses. It comes with over 15 pre-built pages and a variety of layouts to choose from, so you can get your site up and running quickly and easily. This cryptocurrency wordpress theme is fully responsive, so it will work on any screen size, and is also cross-browser compatible so that visitors using different browsers (such as Google Chrome, Safari, and Firefox) can all have the same great experience.
Tips for setting up and customizing your WordPress article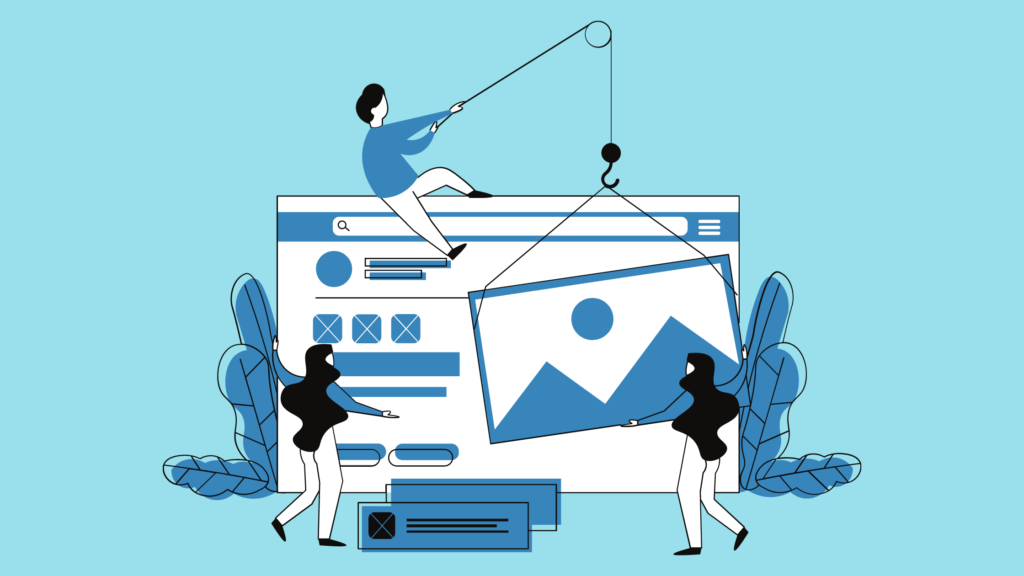 Once you've selected a cryptocurrency WordPress theme for your website, it's time to start setting it up. The process is fairly simple and straightforward, but there are a few things you should keep in mind.
First, you want to make sure you customize the theme to match your brand. This includes adding your own logo, colors, and fonts.
Second, you want to make sure you add all the necessary pages to your website. This includes an About page, Contact page, and Privacy Policy.
Third, you want to populate your website with content. This can be articles, cryptocurrency blog posts, or even videos.
Fourth, you want to make sure your website is secure. This includes adding an SSL certificate and setting up a firewall.
Finally, you want to promote your website. This can be done through social media, search engine optimization, or paid advertising.
Resources to help you get started with WordPress and cryptocurrencies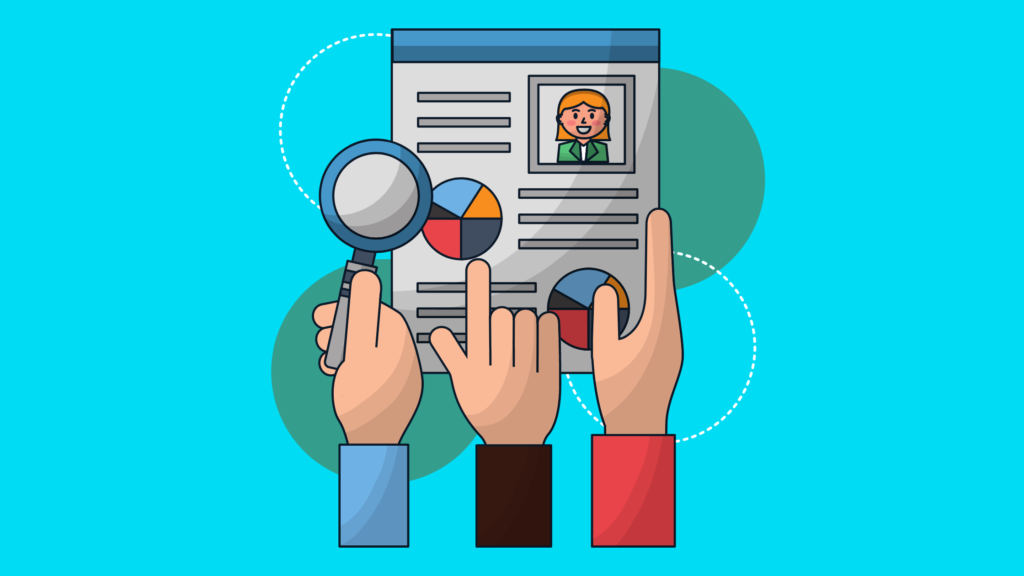 If you're new to WordPress or cryptocurrencies, there are a few resources that can help you get started.
For WordPress, we recommend checking out the official WordPress website. They have tons of documentation and tutorials that will help you get started.
For cryptocurrencies, we recommend checking out CoinMarketCap. They have a list of all the different coins and exchanges, as well as market data and news.
We also recommend checking out our list of the best cryptocurrency WordPress themes. These themes will help you create a professional-looking website for your cryptocurrency business.
By following these cryptocurrency-related projects, you'll be well on your way to creating a successful cryptocurrency website. Good luck!
Conclusion
In conclusion, these are the best cryptocurrency WordPress themes for your site in 2022. These themes are all well-designed and come with great features that will help you create a successful cryptocurrency website. Select a theme from this list to get started on creating a fantastic and efficient website that will attract a lot of visitors. Thanks for reading!
FAQs (Frequently Asked Questions)
What are the best cryptocurrency WordPress themes?
The best cryptocurrency WordPress themes are Cryption, CryptoPress, and Cryptic.
What are the features of a good cryptocurrency WordPress theme?
A good cryptocurrency WordPress theme will have a clean and modern design, ease of use, and plenty of customization options.
How do I choose a cryptocurrency WordPress theme?
When choosing a cryptocurrency WordPress theme, you should consider your needs and budget. If you need a simple theme, then CryptoPress or Cryptic may be a good choice. If you need a more complex theme with more features, then ThemeIsle Cryptocurrency WordPress Theme may be a better choice.
What are the benefits of using WordPress for a cryptocurrency website?
WordPress is easy to use, has tons of features and plugins, and is very affordable. Additionally, WordPress is SEO friendly and can help you rank higher in search engines.
Do cryptocurrency WordPress themes need to be responsive?
Yes, a cryptocurrency WordPress theme should be responsive to ensure that your website looks great on all devices.